Is your organisation reaping the possible benefits of scaling agile?

Many organisations introduce agile and do not get what was promised: customers delighted by frequent releases of value, passionate employees, happily swarming on challenging problems... What is missing?
This provocative talk will enable you to ask the right questions to find the right answers for your organisation. You won't get to the top by copying others.
Agile, especially at scale, is a huge chance for your organisation and its people to thrive. Does this sound like your company?
Präsentation Download
Link: http://www.scrum-day.de/archiv/scrumdayjun13berlin/vortraegedownload/benefits_of_scaling_agile.pdf
Referent: Ralf Kruse; agile42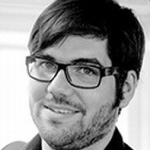 Ralf Kruse is a guy from Hamburg with his sleeves up that does his job with unmatched energy and focus. You will not hear him bragging about successes, but his customers do this for him. With his energetic and playful attitude and downright honesty, he becomes a valuable companion. Besides his MSc in informatics, he is certified as CSM, CSPO, CSP. You can also hear him lecture about agile at the university. When he works for you, he illuminates the darkest corners of your room and although what comes up is typically not the nicest stuff, he is there for you to help you clean it up.