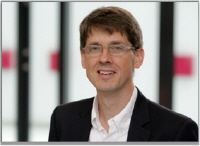 Dr. Thomas Kiessling has been appointed Chief Product and Innovation Officer (CPIO) within the CTIO Board area, effective November 1, 2010. He is in charge of the development and management of innovative and competitive products, services and business models to ensure the success of Deutsche Telekom's market presence.
Thomas has twenty years of experience in telecommunications, IT and online product development. His professional career started in consulting companies for telecommunications, in the telecommunications and competition sector of the European Commission and the World Bank Group. From 1994 to 1999 he worked in a number of functions including presales, network engineering and planning for eunetcom/Global One, a joint venture of Deutsche Telekom, France Telecom and Sprint. From 2000 to 2002 he was Chief Operating Officer (COO) of Energis-ISION, an application hosting company. From 2002 to 2006 he worked for Amadeus, the leading provider of IT solutions in the tourism and travel industry. Since 2006, he has been the Chief Technology & Innovation Officer (CTIO) at bwin, the world's largest listed online gaming company.
Thomas holds a PhD in Telecommunications Economics from the University of Stuttgart, a Master's degree in Network Engineering from Ecole Nationale des Telecommunications Paris, a Master's degree in Economics from The American University, Washington D.C., and a Bachelor's degree in Mathematics from Bayreuth University.